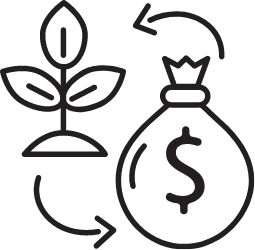 To foster rigorous and industry-relevant interdisciplinary research around climate risk reporting, management and pricing issues. The Climate Finance and Accountability sub-cluster aims to develop new knowledge and provide evidence-based recommendations to standard setters and stock market regulators in Canada on the best practices and reporting framework to enhance material climate-related financial information quality and optimize capital flows towards climate-resilient investments.
The physical impacts of frequent and severe extreme weather events are likely to cause significant disruption to supply chains and asset destruction in many businesses. Furthermore, the increasing regulatory pressure towards a transition to a low carbon economy is likely to threaten business model viability and asset valuation in carbon-intensive industries. The Covid- 19 pandemic highlights the urgency of coordinated actions between the private and public sectors to decarbonize the economy.
While investors and other capital market participants recognize the importance of climate-related risks, few currently include them in capital allocation decisions. Institutional investors raise concerns about the quality, reliability, and consistency of climate-related information. To address these concerns, in 2017, the Task Force on Climate-Related Financial Disclosures (TCFD) released its recommendations for voluntary financial disclosures about climate-related risks and opportunities. The TCFD recommended that corporations, both in the financial and non-financial sectors, provide financial disclosures about their exposure to material climate-related risks and opportunities, risk oversight and management approach and the resilience of their business model to different climate scenarios. The TCFD reporting framework has received support from large institutional investors and asset managers. More recently, the Government of Canada requested that companies applying to the Large Employer Emergency Financing Facility ("LEEFF") Covid-19 support program commit to providing TCFD-consistent disclosure to help Canada meet its 2050 net-zero carbon commitment.
Selection of Relevant Work
Ben Amar, W., Gomes, M., Khursheed, H., Marsat, S., 2022
"Climate Change Exposure and Internal Carbon Pricing Adoption", Business Strategy and the Environment.
Ben Amar, W., Comyns, B., Martinez, I., 2022
"The COVID-19 Pandemic: Opportunity or Challenge for Climate Change Risk Disclosure?", Accounting, Auditing & Accountability Journal, (Accepted for publication).
Ben Amar, W., Chang, M., McIlkenny, P., 2017
"Board Gender Diversity and Corporate Response to Sustainability Initiatives: Evidence from the Carbon Disclosure Project", Journal of Business Ethics, 142(2):369-383.
Ben Amar, W., McIlkenny, P., 2015
"Board Effectiveness and the Voluntary Disclosure of Climate Change Information", Business Strategy and the Environment, 24(8):704-719, 12.
Ge, W., Qi, Z., Wu, Z., &Yu, L., 2022
"Climate risk and bank loan contracting: International evidence".
Hmiden, O. B., Rjiba, H., & Saadi, S., 2022
"Competition through environmental CSR engagement and cost of equity capital", Finance Research Letters, 102773.
Hossain, A., Saadi, S., & Amin, A. S., 2022
"Does CEO risk-aversion affect carbon emission?", Journal of Business Ethics, 1-28.
Climate Finance and Accountability Sub-Cluster Coordinator